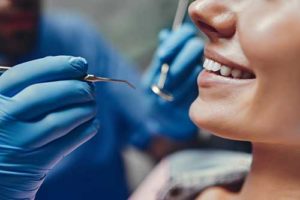 Lovett Dental Meyerland Plaza is a team of experienced dental professionals that deliver compassionate care and specialty dental services. Perhaps you are nervous about going to the dentist or have children that would benefit from the understanding and patience of a pediatric dentist. Our team offers periodontic, pediatric, and orthodontic services in Houston, making your experience with specialty or general dentistry in Texas as pleasant and as quick as possible.
At Lovett Dental Meyerland Plaza, we're committed to providing all of the dental care that our patients and their families need. As a result, in addition to our specialty dental services, we also offer general and cosmetic dentistry services. To learn more about the services we provide, please contact Lovett Dental Meyerland Plaza today at 281-974-3434.
What Are Specialty Dental Services?
Come to Lovett Dental Meyerland Plaza for regular dental care or any of the following procedures:
Our goal is to safeguard your oral health and to make the process at stress-free as possible. Learn more about how our specialist services can help you.
Dental Implants
Dental implants are a permanent solution for broken and missing teeth that look and feel like natural teeth. Implants carry the additional benefit of stimulating the jawbone, so you don't lose bone mass. They also prevent teeth from shifting and moving. Implants are often the right choice when you want a solution that will last a lifetime. Once the area has healed, including the bone, implants let you eat your favorite foods and smile with newfound confidence. Furthermore, the actual process only takes about a day.
Treatment for Gum Disease
Millions of people suffer from gum disease, which is a common cause of tooth loss. When plaque accumulates between your gums and teeth, inflammation develops and can lead to several issues. But these issues are entirely preventable with proper periodontic care. Our dental staff at Lovett Dental Meyerland Plaza regularly performs the following procedures to repair the resulting gum damage:
Crown lengthening

Scaling and root planing to clean the infected surface

Osseous surgery to reduce gum pockets

Regenerative procedures, such as ridge augmentation and bone grafts

Placement and maintenance of dental implants
Root Canals
We offer superior dental specialist services at Lovett Dental Meyerland Plaza, especially when it comes to endodontic care. Our board-certified endodontists specialize in problems with nerve tissue and blood vessels within your tooth. They use digital imaging, ultrasonic instrumentation, operating microscopes, and fiber optics to provide you with state-of-the-art endodontic treatment. In addition, technology and advanced training enable our endodontists to treat your tooth as quickly and as comfortably as possible.
Children's Dentistry Services
Pediatric dentists are specially trained members of our staff. They complete several years of training after dental school to help children develop and maintain healthy smiles. If you have an infant or children, bring them to our team of fun, likable pediatric dentists.
Braces and Orthodontics
Orthodontic braces can help correct several dental issues, including crowding, open bite, underbite, overbite, and misaligned upper and lower teeth. Our orthodontists take the time and effort to install and adjust your braces correctly to ensure your comfort. We will also educate your child on proper oral hygiene while they're wearing braces.
Other Specialty Dental Services
We understand that some people have anxiety when it comes to undergoing a dental procedure. You may be apprehensive at the thought of visiting us. That's why we offer sedation to make you more comfortable. 
Our options for sedation include: 
Nitrous oxide: Known as "laughing gas," nitrous oxide is a sedative you breathe in.

Oral sedation: Oral sedation is administered via a pill one hour before your appointment. This eases your anxiety and eliminates pain.

IV sedation: this method lets your dentist adjust the sedative during your procedure. We usually only use IV sedation for complex procedures.
Get Dental Treatment at Lovett Dental Meyerland Plaza
Lovett Dental Meyerland Plaza offers experienced specialty dental services in Southwest Houston. However, we also offer a range of additional services, including:
Dental exams
Dental cleanings
Teeth whitening
Dental bonding
Emergency dental services
Contact Lovett Dental Meyerland Plaza for more information on how we can help you maintain your oral health. Call 281-974-3434, or contact us online to schedule an appointment today!