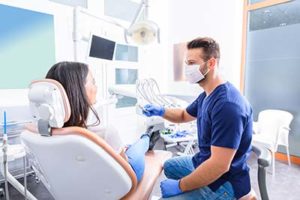 If you are looking for a quality dental facility with a professional, experienced staff to take care of your dental needs, Learn more about Lovett Dental Meyerland Plaza in Houston by calling 281-974-3434. 
About Lovett Dental Meyerland Plaza
At Lovett Dental Meyerland Plaza, we offer a wide range of dental services. Those services include general dentistry, cosmetic dentistry, children's dentistry, and a variety of specialist services in Houston. 
General Dentistry
Our board-certified dentists are highly qualified to meet your general dentistry needs. Between them, our team has years of experience performing dental exams and teeth cleanings in Houston, as well as dental x-rays. At Lovett Dental Meyerland Plaza, we also make a practice of examining crowns and fillings, screening for oral cancer, and identifying and helping you to combat both tooth decay and gum disease. 
Along with a balanced diet and daily brushing and flossing, having your teeth cleaned and examined regularly is your first line of defense against most oral and dental issues. And at Lovett Dental Meyerland Plaza, in addition to our team of dentists, we have an army of dental hygienists whose job it is to remove the plaque and tartar that can so quickly lead to tooth decay, and then polish your teeth to keep that smile at its brightest.
Cosmetic Dentistry
Cosmetic dentistry helps give you the confidence you need to show off your smile. At Lovett Dental Meyerland Plaza, this includes fixing crooked teeth, whitening teeth that are discolored from stains. It also may involve correcting teeth that are too short, oddly shaped, or too long. It may also include fixing gaps, cracks or chips in teeth. At Lovett Dental Meyerland Plaza, we pride ourselves on our expertise in cosmetic dentistry, so if your smile needs a little work, don't hesitate to reach out.
Children's Dentistry
The Texas pediatric dental specialists at Lovett Dental Meyerland Plaza are here to help your children keep their teeth healthy and develop healthy oral hygiene habits, such as brushing and flossing regularly. It is never too early to start down the road of having oral hygiene habits. We serve infants, children, and adolescents, as well as children with special health needs. 
Specialist Services
At Lovett Dental Meyerland Plaza, we also offer dental specialist services. We have periodontics, endodontics, oral surgery, and orthodontics sections to meet your dental specialist needs. And more specifically, our specialist services include but are not limited to dental implants, repairing gum issues, performing root canals and extractions, and a variety of orthodontic procedures, including braces. We offer free consultations if you are not sure about which service you need or if you want an opinion on your specific oral health need. 
Contact Lovett Dental Meyerland Plaza
If you are interested in learning more about Lovett Dental Meyerland Plaza and the services, we offer, make an appointment soon to get a dental checkup. We are located in the Meyerland Mall in Houston. You can fill out our New Patient Form in our office or from the comfort of home.
We take a variety of insurances and forms of payment. We also accept Medicaid, CHIP, and Medicare. If you do not have dental insurance, we can help as well. Our membership includes free dental cleanings, x-rays, and two exams a year, not to mention 35% off all dental procedures. Contact us for more information.
We can also put you on a payment plan to meet your budgeting needs. With CareCredit, you can pay low monthly payments with deferred interest. We also take American Express, Discover, MasterCard, and VISA.
Our multidisciplinary dentistry specializes in pediatric, orthodontist, periodontist, maxillofacial surgeon, endodontist care, and more. Our services include:
High-end cosmetic dentistry
Please call or visit us if you have any questions about our services and facilities. We are open early, close late, and are open on Saturdays for your convenience. 
Learn More About Lovett Dental Meyerland Plaza
Make an appointment by calling 281-974-3434 at your earliest convenience to get the quality dental services you and your family deserve. Contact Lovett Dental Meyerland Plaza online or call us at 281-974-3434 for more information about our dental services in Texas.