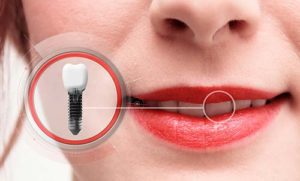 Anyone planning to get dental implants at Lovett Dental Meyerland Plaza may need more info on tooth replacement before deciding if the procedure is right for them. Another priority may be finding a general dentistry practice in Texas that offers dental implant services to match their needs.
For example, at Lovett Dental Meyerland Plaza, patients who come to us may opt for a single-tooth dental implant or implant-supported dentures. A team of board-certified dentists and specialists delivers specialty dental services at Lovett Dental Meyerland Plaza. We're at your side from the first consultation through a series of follow-up treatments. To learn more about our services, please contact our dentist's office today at 281-974-3434. 
Dental Implants Are Permanent Teeth Replacement
A dental implant is an artificial tooth root or post that holds a replacement tooth in place. The typical post looks like a titanium screw and takes the place of a natural tooth root. It is inserted into the jawbone during oral surgery and from then on functions as a support structure for a new crown, a dental bridge, or dentures.
More people are opting for dental implant services for various reasons. One of the most appealing aspects of implants is that they look, feel, and function like natural teeth. You probably decided on dental implants because implants are a permanent replacement for missing, chipped, or broken teeth. But as you explore dental implant services, you should also know that they improve teeth function, including biting and chewing. They can also help prevent jawbone loss. As for the aesthetic benefits, you will be able to step out with a bright, confident smile!
Options for Dental Implants At Our City Orthodontist
The dental implant services you receive will depend on the type of implant you wish to get and the number of teeth you plan to replace. The two options are endosteal and subperiosteal. Your dental specialist can help you decide which one is right for you.
Endosteal:

This most commonly used type of implant is inserted into the jawbone during surgery. It will later hold the prosthetic tooth snugly in place. Patients who are planning on getting removable

dentures

or bridges may prefer the endosteal implant to help keep their replacement teeth in place. However, the patient must have sufficient jawbone height for this procedure.

Subperiosteal:

The artificial tooth root is placed into the gum just above the jawbone. Subperiosteal implants are an option for those who do not have enough jawbone structure to support the tooth root. It is also suitable for persons who are unable to wear traditional dentures or who need

implant-supported dentures

.
The replacement porcelain crowns, dentures, or bridges will be put into place once the post fuses to the bone and the gum heal. This process can take a few months, depending on the dental implant services you receive. The entire procedure generally takes 6 to 9 months. It usually takes a little longer to get endosteal implants because bone grafting is necessary to build up the bone structure.
Schedule a Consultation for Dental Implants in Houston, Texas
You may need to make an appointment with your dental practice of choice to find out how to get dental implants at Lovett Dental Meyerland Plaza. Our team usually performs a thorough dental exam during the consultation. Your exam will include taking X-rays and 3D images of the teeth and jaw.
These exam results help us assess your oral health, decide whether bone grafting is required, and determine in a more general way if implants are right for you. In some cases, the periodontist will need to treat patients with gum disease before the implant procedure begins. Other patients may need extractions or other dental implants services as they prepare to receive their new teeth.
Enhance Your Smile with Lovett Dental Meyerland Plaza
Lovett Dental Meyerland Plaza in Southwest Houston can help you fall in love with your smile again! In addition to dental implant services, we also offer a range of other services. Our services include:
Don't let gaps in your teeth steal your confidence any longer. Call 281-974-3434 or contact us online to schedule an appointment today. Contact Lovett Dental Meyerland Plaza for all of your dentistry needs.