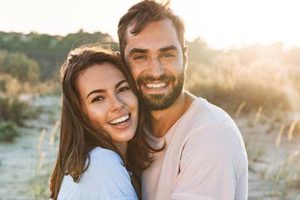 Lovett Dental Meyerland Plaza is proud to provide cosmetic dentistry services. For those who are struggling with stained, broken, or chipped teeth, cosmetic dentistry is a game-changer. Through the use of teeth whitening, dental bonding, veneers, braces, or retainers, we can give you a brand new smile — one you will be proud to show off for years to come. Our cosmetic dentistry specialist will explain all of your options and help you determine which one is best for you. If you are looking for Houston, Texas cosmetic dentistry, Lovett Dental Meyerland Plaza is the one to call.
Our Cosmetic Dentistry Services
With so many methods available, it might be confusing to understand how each one works. The procedure you decide on will depend on your individual needs, lifestyle, condition of your teeth and gums, and precisely what you hope to accomplish. Lovett Dental Meyerland Plaza offers board-certified cosmetic dentistry that is equipped to make your smile beautiful. A few of the methods of cosmetic dentistry we use include:
Teeth whitening services in Texas are one of the least invasive ways to improve the look of your teeth. Your teeth may be discolored by coffee, tea, wine, cigarette smoking, certain medications, age, or genetics. Teeth whitening is a safe chemical process we use to remove stains or simply to whiten the teeth.

Bonding is an excellent choice of procedure for patients with slight decay, chipped teeth, or spaces between their teeth. The bonding material is resin-based and tooth-colored. When you get cosmetic dentistry at Lovett Dental Meyerland Plaza, we specialize in bonding, which lasts for several years after the initial application.

Veneers are porcelain or plastic coverings for the teeth. Veneers hide stains that cannot be removed with whitening. In addition, veneers conceal teeth that are too short, crooked, chipped, or too far apart. Although porcelain veneers last much longer than composite veneers, they are more expensive. Lovett Dental Meyerland Plaza's cosmetic dentistry can help you with veneers for your teeth.

Crowns last longer than all other forms of cosmetic dentistry. A crown can be used when other methods are not feasible because of the cost.

Another cosmetic adjustment available is reshaping or contouring. This is an excellent choice for someone with healthy teeth and gums. Sometimes bonding is combined with this method.
If you are looking for general dentistry near Houston or cosmetic dentistry, Lovett Dental Meylerland Plaza is the best choice.
Maintaining Your Cosmetic Dentistry Enhancements
The life and upkeep of your cosmetic dentistry depend on which option you choose. Some things to remember include:
Veneers are a lifelong decision because they involve the removal of a portion of the tooth.

You should continue to brush and floss your teeth. Regular dental cleanings are always an essential part of good dental health. Getting cosmetic dentistry at Lovett Dental Meyerland Plaza will provide the extra care, like tooth polishing, you will need for your new smile.
Whitening usually lasts around three years, but this depends on how well you care for your teeth after the procedure.

Crowns may have a life of 5-15 years. Again, this depends on how well you care for your teeth.

You should eliminate habits that might break or chip dental work in order to lengthen the life of your cosmetic dentistry enhancement.
What Can I Expect at Lovett Dental Meyerland Plaza
Contact Lovett Dental Meyerland Plaza if you are looking for cosmetic dentistry in Houston, Texas. Cosmetic dentistry varies in terms of the time frame it takes to complete as well as in terms of the invasiveness of the procedure. Our specialists will discuss what you can expect and create a schedule that will work for you. One thing you can count on is that Lovett Dental Meyerland Plaza will provide quality, long-lasting service in a comfortable, relaxed atmosphere. 
Getting cosmetic dentistry at Lovett Dental Meyerland Plaza can give your smile a new life! Don't let imperfect teeth keep you from showing your smile. Call us today at 281-974-3434, or contact us online to get started.