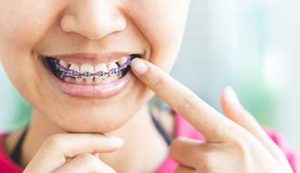 Lovett Dental Meyerland Plaza offers dental braces that correct crowded or misaligned teeth or jaws. We provide orthodontic services for both adolescents and adults who need orthodontic work. Braces can properly align your teeth and jaws to improve your bite and enhance your smile.
Our braces are fully customizable, with lots of options available. Learn more about specialty dental services at Lovett Dental Meyerland Plaza. One of our dental hygienists can meet with you to answer your questions, address your concerns, and go over your dental options. We offer a free consultation on the first visit! To learn more, reach out to Lovett Dental Meyerland Plaza today at 281-974-3434.
Are You a Candidate for Braces in Houston, Texas?
Not all dental problems require braces for correction. Therefore, we perform a comprehensive oral exam to determine if you are a candidate for orthodontic services. You may want to consider dental braces if you have one of the following conditions including:
Overcrowded or crooked teeth
A sizable gap between your teeth (not a missing tooth)
Overbite – upper teeth that overlap the lower teeth
Underbite – the upper teeth fall behind the lower teeth
Jaw misalignment that causes biting or speaking problems
If you or your child has any of these conditions, braces can realign your teeth or jaw. They are especially crucial in correcting the development of the teeth/jaw in children or adolescents. Lovett Dental Meyerland Plaza can improve the appearance of your teeth and the overall health of your oral cavity.
What You Can Expect from Our City Orthodontic Services
When you decide that braces are right for you or your child, the process you usually use involves the following steps, including:
An Oral Exam
We conduct a full dental exam of your oral cavity, including your jaws and your teeth. This gives us an overview of the current condition of your mouth. It also helps us to determine if braces are the best option. Learn more about dental exams during teeth cleaning.
Diagnostic X-Rays
We perform a series of x-rays to determine the position of your jawbone or teeth. The x-ray displays the upper and lower teeth when they are in a biting position. We can also get an idea of the size and position of the teeth and jaws.
Plaster Models
We custom design a plaster model that acts as a replica of your teeth and jawbone. The plaster model allows us to develop the braces precisely to the shape of your mouth. We use digital technology to create braces based on the plaster model.
Further Dental Work
If your teeth are overcrowded, damaged, or affected by decay or disease, we may have to perform additional dental work before we can apply the braces. This allows the braces to do their job effectively and develop your teeth long-term. In severe cases, we may need to perform jaw repositioning surgery.
The Benefits of Braces
There are several benefits of getting dental braces, including:
They improve the overall health of your oral cavity
Improve your teeth's ability to chew on tough food
Prevent jawbone erosion or bone loss
Boost your confidence and improve your smile
Help you with related chronic speech problems
Best of all, braces are a long-term investment into your oral health that can last into your adulthood. Our orthodontic services can prevent further problems from occurring when you get older.
Schedule an Oral Exam at Lovett Dental Meyerland
At Lovett Dental Meyerland Plaza, we're committed to providing the best possible care for all of our patients' needs. To that end, we provide a full continuum of care, including services such as:
Dental exams
Dental cleanings
Teeth whitenings
Pediatric dental care
Emergency dental services
Contact Lovett Dental Meyerland Plaza for dental braces. We offer complete dental work for children adults. To schedule a free consultation, call us at 281-974-3434, or contact us online. We are here to help you with all of your dental needs.