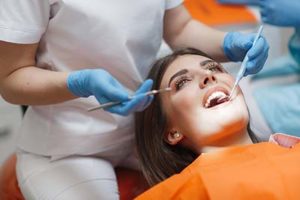 Your teeth should last your lifetime. Some people, though, forgo the kind of professional teeth cleaning many families find beneficial. When you skip teeth cleaning and dental exams, you run a high risk of plaque and tartar buildup. Plaque secretes acids that cause tooth decay. Those acids can lead to cavities, fillings, root canals, and more. Once costly dental work starts, it often lasts throughout your life with repeated procedures later. Dental hardware, like most other things in life, only lasts so long. Fillings and crowns deteriorate over time and require more work. This is why you need to brush and floss at least twice a day to stop cavities before they start.
Lovett Dental Meyerland Plaza provides general dentistry in Houston with teeth cleaning and dental exams to keep dental problems at bay. That is the best way to prevent tooth decay, cavities, and a lifetime of costly dental visits. You also need to brush and floss at least twice daily and visit your dentist every six months for teeth cleaning and dental exams. The best way to protect your teeth is with good oral hygiene, and with the kind of regular teeth cleaning, you can keep your teeth healthy for years to come.
Benefits of Teeth Cleaning
Your teeth can stay perfectly healthy throughout your life if you brush and floss regularly. If you let plaque and tartar accumulate, your teeth won't stay healthy. Instead, the plaque and tartar stain your teeth, leaving them yellowish and even brown from heavy tartar buildup. You most likely will have costly and recurring dental bills for ongoing treatment. The best way to avoid increasingly high dental bills is through regular brushing, flossing, and the kind of teeth cleaning our Houston, TX dentists offer.
Plaque is a relatively sticky substance that builds up on your teeth and carries a lot of bacteria. That bacteria attacks your teeth with acids. If you ignore it for too long, the plaque and tartar lead to gum disease and tooth decay. That gets even worse when you skip teeth cleaning and dental exams.
When plaque is allowed to go unchecked for too long, it becomes a hardened substance called "tartar." We call that "tartar buildup," and you can't get rid of it with a toothbrush. Only a thorough cleaning like the teeth cleaning our dental professionals will ensure your teeth will last as long as you do. Tartar requires actual dental tools used by a professional who has experience cleaning teeth and performing dental exams.
How Teeth Cleaning and Dental Exams Help You Maintain Your Dental Health
No matter how well you brush and floss, you can't do as good a job as your dentist. The highly trained and experienced professionals at Lovett Dental Meyerland Plaza can use their skills and dental tools to clean your teeth more thoroughly than you can at home. This kind of cleaning ensures that plaque and tartar are removed, making your smile that much whiter and brighter.
Whether you need a teeth cleaning or another dental service, Lovett Dental Meyerland Plaza does more than just the kind of teeth cleaning our patients have come to rely on for good oral health. We offer six types of specialty dental services in Texas:
Orthodontic

Periodontic

Maxillofacial surgical

Endodontic
All those services make Lovett Dental Meyerland Plaza a full-service dental office.
Shedule an Appointment With Lovett Dental Meyerland Plazac
With regular teeth cleaning and dental exams being your best ally against cavities, now is the best time to schedule an appointment. If you or a family member is having problems with tooth decay, contact Lovett Dental Meyerland Plaza for professional teeth cleaning and exams. With work with most dental plans and have other options for a better smile and dental health. You don't have to live with costly dental bills and bad teeth. Call us today at 281-974-3434, or contact us online and schedule your teeth cleaning at Lovett Dental Meyerland Plaza.