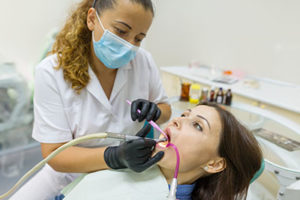 You have a toothache that's getting worse, but you're scared to go to the dentist. Even though you don't want to deal with the pain, there's a fear of the dentist that limits your actions. Why does this happen? For many people, it's dental anxiety. Our Houston sedation dentist has the resources to help you.
At Lovett Dental Meyerland Plaza, we work with individuals who need a bit of help coming in to see the dentist for specialty or general dentistry. Additionally, we provide varying levels of sedation for oral surgery procedures for your comfort.
Benefits of Sedation Dentistry
Your Houston sedation dentist is a licensed and trained professional who understands any risks present. If you are avoiding general, cosmetic, or specialist dental services because you are worried about pain or discomfort, skipping the dentist is far worse than the risks of sedation. These methods are used only when necessary and only in a way that is safe for you. Sedation is a great option if you are going in for oral surgery or have dental anxiety.
What Is a Sedation Dentist?
Sedation is a term used to describe the use of medications to put you at ease. Every situation is different. We offer several levels of protection that could help you.
Laughing gas, also known as nitrous oxide, is a common treatment for mild dental anxiety. It reduces pain and puts you at ease during your procedure.
Some people with a higher level of anxiety that's established may benefit from oral sedation in the form of a pill. You'll take it prior to coming in for treatment and in some cases, the night before.
IV sedation is a more advanced solution. It provides a higher level of sedation and lasts longer. It is generally reserved for longer or more complex procedures.
General anesthesia is a final option. We use this only in the most severe or longest-lasting cases.
In every situation, your Houston sedation dentist will discuss the options available for you. We never want to use more sedation than is necessary. At the same time, we don't want you to feel pain or discomfort.
Do You Need a Sedation Dentist?
When you come in for an appointment, we'll discuss your specific needs for sedation. You may benefit from working with our Houston sedation dentist in some critical situations:
You have high dental anxiety or past bad experience.
You have a low pain threshold.
Your teeth are very sensitive to hot or cold or touch.
You have a bad gag reflex.
You are likely to need a complex or long procedure.
You're having a dental implant or an oral surgery procedure.
When you trust our specialty dental team for your needs, you can rest assured you are getting the very best level of treatment. We have a team ready to manage any type of sedation provided in a safe manner. You may benefit from this procedure if you are having oral dental surgery, impacted tooth extractions, or other invasive procedures. We may also recommend this type of sedation for some types of advanced periodontal procedures.
Make an Appointment at Lovett Dental Meyerland Plaza
You don't have to worry about what's going to happen when you visit your Houston sedation dentist at Lovett Dental Meyerland Plaza. Our team is here to make the entire visit to your dentist as easy as it can be. Sedation options are available for all of our services including:
Contact Lovett Dental Meyerland Plaza today to schedule a consultation and a dental exam by calling 281-974-3434 or contacting us online.