Many Americans lose their teeth due to tooth decay, periodontal disease, and trauma. In fact, tooth loss is quite common in adults age 20 to 64. People in this age group have an average of 25 remaining teeth. Thankfully, advanced dental technology provides various tooth replacement options. One of them is dentures, a type of artificial teeth. You and your dentist or prosthodontist at Lovett Dental Meyerland Plaza can explore this option and the benefits to see if it is right for you.
What Type of Dentures Are Available?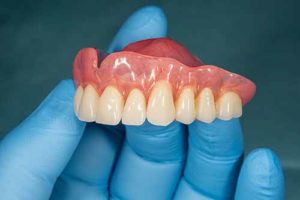 Tooth loss can take a toll on your oral and physical health as well as your self-confidence. Missing teeth prevent proper chewing of foods. It also causes indigestion, jaw bone erosion, and weakening of nearby teeth. The sooner you explore your tooth replacement options, the less chance there is for these adverse effects to occur.
Once you decide on this type of prosthetic dental appliance, you will have the following types to choose from to suit your needs. Bear in mind that the type of denture you need will depend on the number of missing teeth you have and the way the denture fits.
Conventional dentures: The two types available are full/complete and partial. They have a pink or gum-colored plastic base and a metal framework that keeps them together. Both types fit directly over the gum, and denture glue or bond keeps them in place. However, they are fully removable. A full denture replaces all of the teeth in the upper or lower jaw. Partials are more suitable for patients who still have some of their natural teeth. For example, if their molars are missing, but they still have their incisors. The partial denture will fill the gaps. Some patients receiving a full-mouth restoration may need to have remaining teeth extracted. Once the gum heals, the dentist can order the denture and take impressions of your mouth.
Immediate denture: An immediate denture is made before your dentist extracts one or more of your natural teeth. The dentist then inserts the appliance into the mouth immediately after tooth extraction as an interim solution. The upside to this is you will not have to go toothless while you wait for your prosthetic teeth to be made.
Implant-supported dentures: This type provides ultimate stability and comfort since it does not require glue or cement to hold it in place. It is also the only type of denture that is not removable. Your dentist will surgically insert several metal posts (titanium screws) into the jawbone. These posts anchor the artificial teeth. Although this option is the most costly and requires a surgical procedure, our patients like that they look and feel more natural than the conventional type. Additionally, it will not move or slip out when you talk or chew.
Why Should You Choose Lovett Dental Meyerland Plaza?
There are many benefits of tooth replacement using dentures at Lovett Dental Meyerland Plaza, besides filling the gaps left behind from tooth loss. Here are some of them:
A great option for people missing some or all of their teeth
Improved ability to chew, speak, and digest foods
Prevents teeth from shifting
Helps improve your appearance and facial symmetry
You will smile more and regain your self-confidence.
A safe and affordable way of replacing multiple missing teeth
Less invasive than getting dental implants
Get Dentures With Lovett Dental Meyerland Plaza
Missing some or all of your teeth and looking for an affordable way to get your smile back? Our experienced dental team at Lovett Dental Meyerland Plaza can help put an improved smile on your face with dentures. Why go toothless when you can call 281-974-3434 or go online to schedule an appointment with our dentist in Southwest Houston.