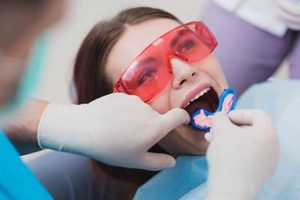 One of the best ways to prevent tooth decay is fluoride treatments. Lovett Dental Meyerland Plaza offers medical-grade fluoride treatments in Southwest Houston during general dentistry services in Houston. Combined with good daily oral hygiene and routine exams, fluoride treatment at Lovett Dental Meyerland Plaza keeps your teeth in excellent condition and reduce the risk of tooth decay.
Fluoride treatments are easy, affordable, and effective. We offer both topical and systemic fluoride treatments that we apply directly to the enamel. They kill bacteria that can lead to oral health problems.
What Is Fluoride?
Fluoride is a mineral that strengthens teeth and fights cavities. Fluoride naturally occurs in rocks, minerals, and water sources. When applied in small doses, fluoride is effective in killing bacteria and other harmful agents that can lead to cavities or gum disease.
When we apply fluoride to your teeth or gums, it deposits a thin layer that repairs and strengthens the tooth and the gums. When you add fluoride to the enamel, it becomes stronger than the enamel. Therefore, it reinforces the entire tooth. This is why we recommend regular fluoride treatments at Lovett Dental Meyerland Plaza.
Types of Flouride Treatments
We offer two types of fluoride treatments in Southwest Houston during teeth cleaning services in Houston, including:
Systemic Fluorides
Systemic fluorides are those that you swallow. Fluoridated water and dietary fluoride supplements reduce dental cavities and keep your teeth healthy. If you are at a moderate-to-high risk of getting tooth decay, then system fluorides may be a good option for you.
Topical Fluorides
We apply the fluoride directly to your teeth. The gums and surrounding tissue absorb the fluoride and kill the bacteria. This is a higher concentration of fluoride that you usually find in toothpaste. Therefore, it does a better job of cleaning your teeth and killing the harmful agents. We recommend continued use of normal fluoride toothpaste at home twice a day for self-care.
You can choose between systemic fluorides and topical fluorides or use them both as needed. We recommend topical fluoride treatments at least once every six months when you schedule your dental exam. You can consume systemic fluorides more often. Regardless of which type you choose, fluoride treatments are beneficial for your teeth and gums.
Benefits of Fluoride Treatments
There are several health benefits of fluoride treatments, such as:
Fluoride treatments protect your tooth enamel
Fluoride adds vital minerals to your teeth and gums
You are less likely to get cavities or tooth decay
You save money in extensive dental procedures
Fluoride is a natural solution for fighting harmful substances
Although we often give fluoride treatments to children, adults benefit from them as well. As you get older, your teeth and gums have a more difficult time fighting off tooth decay and gum disease. Your teeth start to wear down due to everyday use. Fluoride treatments can reinforce your teeth and gums.
Get Fluoride Treatments During Your Oral Exams
To keep your teeth healthy, we recommend that you schedule an oral exam and teeth cleaning in Southwest Houston every six months. During your oral exam, we can also give you fluoride treatments. They are a great way to supplement teeth cleaning. One fluoride treatment should work to strengthen your teeth for at least a year, according to the American Dental Association.
However, if you have a more severe condition, we may recommend that you take home fluoride tablets to swallow. Since fluoride comes from natural mineral sources, it is safe to use. However, like anything else, too much of a good thing can be dangerous. So, do not overdose on fluoride treatments. Take them as directed by one of our dental specialists.
Schedule an Appointment at Lovett Dental Meyerland Plaza
If you are looking for a solution to prevent cavities for your teeth, then contact Lovett Dental Meyerland Plaza. We offer fluoride treatments, as well as other preventative dental work. To schedule a free consultation with one of our dental hygienists, call us at 281-974-3434, or contact us online.