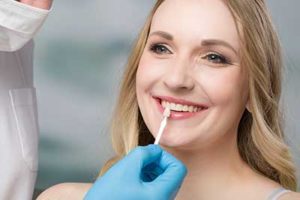 Dental veneers are a part of our cosmetic dentistry services at Lovett Dental Meyerland Plaza that people look for to get a great-looking smile. You can change the appearance of your existing teeth by getting dental veneers that adhere to your natural teeth and cover up any problems.
If you don't smile because you can't stand how your smile appears, dental veneer services can have a positive impact on your self-confidence. Improve your looks through dental care and see how dental veneers can make a difference.
At Lovett Dental Meyerland Plaza, we're committed to providing exceptional dental care to all of our clients. Whether you need cosmetic dentistry or general dentistry, we can help. To learn about our services and the benefits of dental veneers, please contact Lovett Dental Meyerland Plaza today at 281-974-3434
What Do Dental Veneers Do?
Our dental veneer services can give you a solution to poorly shaped or discolored teeth or for gaps between your teeth. If you have a chipped tooth or one that doesn't match the rest of your mouth, veneers can be used to give your teeth a uniform appearance. Your dentist may apply dental veneers to:
Repair a chipped tooth that needs lengthening to match your existing teeth
Eliminate a gap you have between two teeth
Whiten your teeth when they don't respond to traditional whitening methods
Improve the look of oddly shaped teeth
If you are not happy with your smile, it's time to see how cosmetic dentistry in Southwest Houston can help. Your dentist will talk to you about your choices when it comes to dental veneers and determine if you are an excellent candidate to restore your smile with veneers.
How Do Dental Veneers Work?
Dental veneers are thin, composite resin or porcelain pieces that fit perfectly over your existing teeth. Your dentist will have your veneers made and permanently secure veneers to your existing teeth. The process includes having a thin layer of enamel removed to prepare the surface for your veneers. Your dentist molds your teeth, and the molds are sent out to have your veneers made. Once you have your dental veneers, you will be able to keep your veneers in good shape by:
Staying away from hard food, such as candy, to avoid chipping an existing veneer
Brushing and flossing your teeth regularly to keep up with your oral health
Protect your veneers by staying away from foods that stain your teeth and can cause problems
Calling your dentist when there is a problem with one of your veneers
You can have a beautiful smile when you work with your general dentist in Houston to get dental veneers. Once you have your veneers in place, you will have a smile that you can be proud of.
Getting Dental Veneer Services at Lovett Dental Meyerland Plaza
If you are interested in dental veneers in Southwest Houston, it's time to set up a consultation with Lovett Dental Meyerland Plaza to talk about your options. You will learn what it takes to get dental veneers and how long the process might take. From your initial visit to getting your dental veneers, the process can last several weeks. The steps include:
Initial consultation to discuss your goals using dental veneers
Removal of enamel to prepare your teeth for the placement of veneers
Measuring your mouth and taking molds to get your veneers made off-site
Veneers are placed into your mouth using a secure adhesive for a permanent change to your smile
Your dentist will talk to you about dental veneer services at Lovett Dental Meyerland Plaza. You can have a great smile in a matter of a few weeks once you get started.
Seek Treatment at Lovett Dental Meyerland Plaza
At Lovett Dental Meyerland Plaza, we're a full-service dental office, offering a wide array of services that can improve the health and function of your teeth. Our services are extensive and include:
Dental exams
Dental cleanings
Periodontic services
Dental bonding
Oral surgery
If you're ready to improve your smile, we welcome you to reach out to Lovett Dental Meyerland Plaza. Call 281-974-3434, or contact us online to set up your consultation for dental veneers and see why so many people choose veneers to fix their teeth.