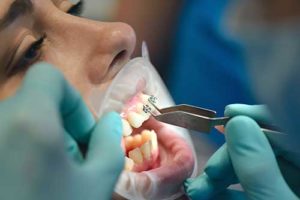 When you visit the orthodontist at Lovett Dental Meyerland Plaza, you receive the care and expertise of a dental specialist with years of experience. Our orthodontic services include the prevention, correction, and diagnosis of misaligned teeth and bite patterns. Our team of dentists collaborates to provide various treatments to correct your teeth for a healthy smile. Contact Lovett Dental Meyerland Plaza to set up a dental exam or consultation for your specific problem.
You may start your journey with an annual exam. The general dentist may refer you to an orthodontist to deal with irregularities in your teeth. Sometimes, this means getting braces or other tooth alignment aids. Other treatments include follow-up visits to monitor the development of your teeth. Most orthodontic patients are children, teens, or young adults.
At Lovett Dental Meyerland Plaza, we provide a wide range of treatment options for every client, regardless of age. We strive to ensure that each patient's teeth are as healthy as possible. Whether you require orthodontic treatment or another treatment option, our team can help. To learn more about our services, please contact Lovett Dental Meyerland Plaza today at 281-974-3434.
Orthodontic Services in Houston, Texas
When you visit the orthodontist, they will do their best to improve the condition of your teeth. This could mean adjusting the teeth and jaws when they do not align appropriately. However, there are many options available under orthodontic care. It's important to follow the instructions provided carefully to get the best outcome at the end of your treatment.
First, the orthodontist will schedule a visual exam and evaluate your smile. Afterward, they will update your chart with their diagnostic analysis. Further treatment could include bite impressions, imaging of the jaw joints, and panoramic x-rays. The orthodontist will review the imaging and determine the best route to realigning your teeth. Finally, you will work with your dentist to determine the best course of action to suit your lifestyle and goals.
Diagnostic records produced by your orthodontist help our entire team deliver effective treatment. For example, you may need an oral surgeon's help to correct a portion of your alignment issues. If you have an overcrowded mouth, the orthodontist or general dentist must extract one or more teeth to make room for realignment procedures. Both fixed and temporary appliances are effective in improving jaw arch and alignment issues.
Orthodontic services provided at Lovett Dental Meyerland Plaza include the following:
Dental malocclusion
Underbite
Overbite
Impacted teeth
Crossbite
Protruding teeth
Spacing
Crowding
Come To Our City Orthodontist To Beautify Your Smile Today
Having a beautiful smile can increase your confidence and help you prepare for new work and social opportunities. Adults who feel self-conscious about misaligned or crowded teeth can discuss alternatives to braces with our orthodontist.
Dentists recommend that children visit the orthodontist by age 7. However, it's becoming more common for adults to correct their teeth and realize their dream of a stunning smile. If you want to correct your smile as quickly as possible, come in for a consultation with our orthodontist to discuss your options.
Advances in the field mean that modern technology can offer choices not available ten years ago. There is a range of options that allow for discrete straightening of your teeth. Adults are a much higher percentage of our orthodontic clients due to the growing popularity of new treatment methods such as clear brackets and alignment appliances.
Popular Treatment for Adult Orthodontic Clients
There are several treatment options available for patients of all ages.
Some of the most popular orthodontic treatments for adults include the following:
Underbites
Deep bites
Gaps
Crowded or misplaced teeth
Facial asymmetry
Sometimes, it's necessary to move existing teeth to place implants, crowns, veneers, and dentures.
Find the Best Orthodontist for You at Lovett Dental Meyerland Plaza
In addition to our orthodontic services, we also provide a wide range of additional treatment options. For instance, our general and cosmetic dentistry options include:
If you would like to set up an appointment with our dental team, call us at 281-974-3434. You can also contact us online to schedule a time that's convenient for you. Find out more about our general dentistry, pediatric dentistry, and other services. We are here to provide quality orthodontics.