Do you feel like your smile looks dull or dark? Tooth polishing can be an excellent way to lift away stains and restore shine to the surface of your tooth. At Lovett Dental Meyerland Plaza, we provide tooth polishing. With just a short procedure, you can get a bright smile that leaves a positive impression on everyone you meet.
The Benefits of Tooth Polishing at Lovett Dental Meyerland Plaza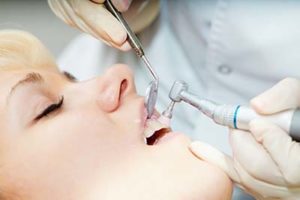 The primary benefit of tooth polishing is that it assists with stain and plaque removal. Over time, the enamel of the tooth tends to get stains that tooth brushing cannot easily remove. It will lift away these stains, so your teeth look lighter and brighter, just like they would with a tooth-whitening procedure. For many patients, tooth polishing is also appealing because it makes the teeth feel smooth and slick. This can help you feel extra clean and refreshed after your dental cleaning.
In addition to providing a cosmetic improvement, tooth polishing also has some dental health benefits. Dentists often do this procedure after scaling and root planing, dental procedures that remove hardened tartar from the teeth and under the gum line. It will get rid of the final bits of tartar, so bacteria does not continue to damage the surface of the tooth. Removing tartar also enhances gum health because the hardened tartar can no longer irritate the gums and cause inflammation.
Do You Need Cosmetic Dentistry Services?
To figure out if tooth polishing is right for you, take a careful look at your smile. Think about whether or not you notice any discoloration. This can include orange, yellow, green, or brown tints to your teeth. These are frequently stains from regularly consuming things like soda, coffee, tomato sauce, and red wine. Even if your teeth do not seem obviously discolored, tooth polishing may be helpful for dealing with hardened plaque removal. If you notice a whitish or yellowish film building up along your gum line, you may benefit from professional dental cleaning at Lovett Dental Meyerland Plaza.
Keep in mind that tooth polishing is not for everyone. You do not need tooth polishing if your teeth have no stains. This means that new teeth will not require polishing for at least a few years. If your teeth have internal staining, due to things like too much fluoride exposure as a child, tooth polishing cannot remove internal staining. Nor can tooth polishing change the color of your teeth. Polishing does remove the very outermost layer of enamel, so it can cause temporary sensitivity until the teeth remineralize. If you have dental caries, hypoplasia, gingivitis, sensitive teeth, or other dental issues, you should not get tooth polishing until you treat these preexisting issues.
What to Expect When You Come to Lovett Dental Meyerland Plaza
Dentists frequently perform the service alongside professional dental cleaning at Lovett Dental Meyerland Plaza. However, you can always schedule an appointment just for polishing if you desire. When you are ready for your tooth polishing, the dental hygienist will assess your condition and choose between fine, medium, or coarse polishing pastes. Coarser pastes remove more stains, but they are not advisable for those with weak enamel. Once the hygienist has selected your polishing mixture, your dentist will gently apply it with a rubber cup that rubs the polish into the teeth. For more severe stains, your dentist may opt to use an air-polishing system, which uses a jet of air, water, and polishing paste. Your dentist can perform the entire stain and plaque removal process in under 30 minutes.
If you would like to give the service a try, Lovett Dental Meyerland Plaza is here to help. Our dental hygienists gently lift away plaque and stains, so you can enjoy healthy, shining teeth. We also offer a variety of other helpful dental services, including:
Dental exams and X-rays
Composite tooth fillings
Bridges and crowns
Braces and clear aligners
Learn more about what we have to offer when you contact Lovett Dental at 281-974-3434 or contact us online. Schedule an appointment if you're looking to have a nicer smile.