Gingivitis is the early stage of gum disease. It is important to pay close attention to it and get treatment, simply because this is a chronic and worsening condition. The longer you go without getting gingivitis treatment, the more complicated the condition can be. Our team at Lovett Dental Meyerland Plaza can offer guidance and help you. Call us today at 281-974-3434 for more information.
What Gingivitis Treatment Is Right for You?
It is always a good idea to work closely with your general dentist and periodontics team to address gum disease. The sooner this is done, the easier the gingivitis treatment will be. It is possible to reverse it at this stage for most people. Here are some of the most important ways to do so.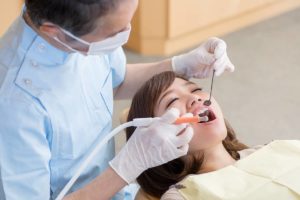 Improve Brushing and Flossing
The best first step is to brush your teeth more frequently and to floss. Brush at least two times a day or after each meal. Try to skip snacks. Floss at least one time a day. Brushing removes food particles and bacteria, allowing your immune system to remain healthy and fight the current inflammation.
Use the Right Bristle Brush
Gingivitis treatment is necessary because of the inflammation of the gums. If you are brushing too hard or using hard bristles, it will damage the gums. More force is never recommended. Instead, brush more frequently and for a longer period of time.
You can also use an electronic toothbrush. These toothbrushes, with the right soft head on them, can provide a higher level of cleaning.
See Your Dentist for a Cleaning
Professional dental cleaning is essential. If you just have the beginning signs of gingivitis, a general professional cleaning can be enough to help get the condition under control. If it worsens, periodontics treatment becomes necessary. This treatment could mean more invasive cleaning methods. See your dentist for a general tooth cleaning at least one time every six months.
Improve Your Diet
There are several benefits to improving your diet when it comes to gingivitis treatment. For example, reduce the amount of sugar in your diet. Sugar feeds bacteria and allows it to flourish beyond the level of control your immune system can offer. Second, eating a diet with lots of vegetables and fruits will improve your immune system's function. That is going to allow you to see improvement in your overall health.
Use a Mouthwash
Mouthwash is another way to treat your gum disease. It is often a part of the gingivitis treatment. You can start with an over-the-counter product. These may contain alcohol in them to kill the bacteria. Natural products exist, as well. If you come in to see your dentist and need more advanced gingivitis care, your dentist may recommend using a prescription mouthwash. This mouthwash can further improve your oral health.
Getting Treatment Meets Taking Care of Your Oral Health
Periodontics is a critical step in maintaining your overall dental health. If you have gum disease, gingivitis treatment is the first step. Getting it under control now and tackling other oral health needs can minimize the risks to your smile. Let our team help you to get the care you need for all of your oral health concerns with our services, including:
Professional teeth cleaning
Root canal treatments
Fillings and sealants
The sooner you reach out to our team when you see a bit of pink in the sink after brushing, the better we can help you.
Start on the Path of Healing Gingivitis at Lovett Dental Meyerland Plaza
Finding the right gingivitis treatment is essential. It should always start with a visit to your dentist and periodontics team. At Lovett Dental Meyerland Plaza, our professionals can answer all of your questions about gum disease and help you overcome it. Schedule an appointment by calling 281-974-3434 today.